Why Do You Need To Use Mixed Reality?
Introduction 
Mixed reality transforms how you work, learn, play, shop, and connect with the world around you. It's the perfect way to visualize things that would be impossible or impractical to see otherwise. It is at the forefront of modern technology and business alike, with major companies such as Google, Microsoft, and Apple investing large amounts of resources into the development of their own AR/MR technologies. In 2019 the total market value of AR/MR technologies was estimated to be USD 10.7 billion. Furthermore, the market is currently projected to reach USD 72.7 billion by 2024.
Throughout the history of MR technology, there's been an increase in product design efficacy and consumer interest. This trend seems to be continuing. More use cases continue to pop up confirming the effectiveness of this technology. Consequently, it is a no-brainer that tech giants such as Google, Microsoft, and Apple are leading the push towards a more augmented world. The questions that remain are, how can smaller companies get their hands on this technology and how can they utilize it to increase their work efficiency and profits?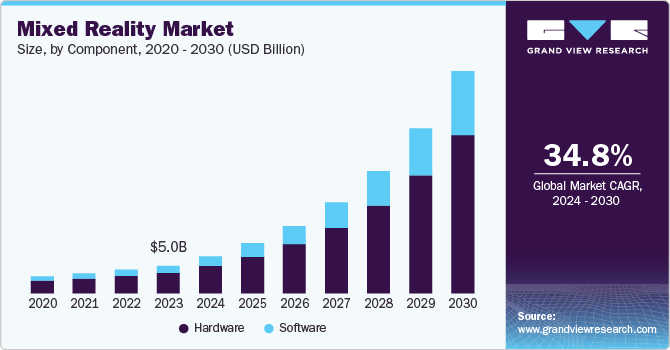 What Is Big Tech Doing with AR/MR? 
Microsoft's Mixed Reality 
Microsoft has been in the mixed reality game since 2015 when it released its first version of the HoloLens. The HoloLens is a head-mounted display device that runs the Windows Mixed Reality Platform using Windows 10. Microsoft claims that the "HoloLens 2 offers the most comfortable and immersive mixed reality experience available, with industry-leading solutions that deliver value in minutes. It is all enhanced by the reliability, security, and scalability of the cloud and AI services from Microsoft." Microsoft is hoping to redefine what mixed reality can achieve, by providing solutions to problems in various industries. The HoloLens 3 is currently in development and is set to release in 2024. 
Apple's Augmented Reality 
In 2017, Apple released ARKit, a software used to develop and incorporate AR technology in apps and games. Many apps that are available on the IOS app store including IKEA place and Snapchat utilize this AR technology. Likewise, Apple has also since developed RealityKit 2 and states, "The RealityKit framework was built from the ground up specifically for augmented reality with photo-realistic rendering, camera effects, animations, physics, and more." It is rumored that Apple is developing a new pair of glasses that incorporate AR. However, this is still speculative. 
Google's Augmented Reality
Google incorporates its AR technology with Google Lens, which can be accessed on most home devices through Google's search engine. The features of Google Lens include scanning and translating text on physical objects, identifying plants and animals, and identifying physical buildings and landmarks. Its most prevalent usage is within Google maps where you can access Live View and know directions that are overlaid right on top of your real-world view. Likewise, Google has a developer platform similar to Apple's ARKit named ARCore. More information on these technologies can be found on Google's developer page. 
Use Cases 
Employee Facing  
AccuVein, a start-up company in the healthcare industry, utilizes augmented reality technology to improve nurses' and patients' lives. According to Vinny Luciano, a marketing specialist at AccuVein, 40% of IVs (intravenous injections) miss the vein on the first try, with the figures increasing for children and the elderly.
AccuVein employs AR to show nurses and doctors the location of veins in their patient's via a handheld scanner that projects over their skin. The technology has caused a drastic improvement in the accuracy of needle injections in patients. Moreover, these technologies have the potential to support and expand the expertise of healthcare workers.
Customer Facing 
IKEA released an AR-based app named IKEA Place back in 2017. As a result, it has had a profound impact on the retail industry. It is an application that allows users to test IKEA's products in real-time through the Apple ARKit technology. "IKEA Place makes it easier to make buying decisions in your own place, to get inspired and try many different products, styles, and colors in real-life settings with a swipe of your finger," said the leader of digital transformation at Inter IKEA Systems Michael Valdsgaard in a press release. "Augmented reality and virtual reality will be a total game-changer for retail in the same way as the internet. Only this time, much faster."
Early Stage  
AR/MR has even found a place in the art world. For example, in 2020 art mogul KAWS, partnered with Acute Art to showcase his Companion characters. The Companion characters are similar to the large inflatables seen at the yearly Macy's parade in New York City. However, Covid was in full effect in 2020, so people were not able to see the Companions in person. The solution, Acute Art's app that allowed people to view mixed reality versions of the Companions floating above major cities via viewer's home devices. This innovative use of mixed reality technology allowed fans and art goers alike to participate in a large-scale art exhibit while remaining socially distanced from others. 
Mature Stage 
Snapchat realized the value of augmented reality and invested in the technology in 2016 when it purchased the AR startup Cimagine Media. Cimagine Media is the market leader in commercial augmented reality. They have helped top companies to use AR to accelerate their business. Cimagine now assists companies, retailers, and manufacturers in selling more products, faster, by allowing users to see what they're selling. But Snapchat is not the only major company Cimagine has partnered with. Some of the world's most well-known brands have endorsed Cimagine's proven AR technology. It is already assisting retail at places like Jerome's in the United States and Shop Direct in the United Kingdom. Similarly, they are assisting Coca-sales Cola's staff in selling three times faster and seeing a 20 percent increase in sales.
Growth Stage 
One of Nike's most recent and inventive ways of improving its business is by putting augmented reality (AR) into its app to assist users in measuring their feet and determining their proper shoe size. For instance, you can measure your foot at home using the app to correctly determine your size and order shoes with the confidence that you are ordering the correct product. Nike is revolutionizing the entire shopping industry by delivering this functionality through its app.
How Does Mixed Reality Relate to UX?
Mixed reality can have a powerful impact on a customer's user experience. One of the ways it can improve the UX of a customer is by aligning production visualization with their canonical view. When a customer buys a product online, they can only see the product from the angles of the pictures presented to them. This is limiting and can even scare away potential buyers. However, you can create an accurate-sized digital rendering of the product with mixed reality. This allows the customer to see the product from every angle. Therefore, they can make a more informed decision when buying the product online. 
Likewise, mixed reality is capable of improving the navigation of customers when they are using a company's products. Mixed reality can guide users throughout all stages of a product's use such as detailing how to use a product, illustrating how to fix a product, and other involved tasks. For example, improving engineering instructions through mixed reality aids in navigation. MR is incredibly effective at simplifying things. There are endless ways it can improve a customer's user experience. 
Conclusion 
In conclusion, mixed reality will change the world. This is proven by Google, Microsoft, and Apple rapidly developing these technologies, and their positive track record when utilized by other businesses. Mixed reality is on the cutting edge of technology. Consequently, it can seem overwhelming to keep up with all of the updates, innovations, and ways to employ them successfully. That being said, if you have any general questions about mixed reality or how it can be utilized by your business, contact us at www.designial.com. We will be happy to assist you.